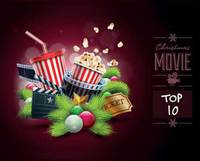 Finally the Holidays are here! And after a relaxing day, it's fun to enjoy a good movie with your kids. Here is list of the best ever Christmas movies. The list is in reverse order.
10. Love, Actually (2003)
It is one of the best Christmas movies. It has got all Christmas moments in it. Lots of love everywhere, big family gatherings, wild parties. It has got all. You are going to enjoy your time at this movie.
9. The Santa Clause (1994)
When Santa falls off Scott Calvin's roof (played wonderfully by Tim Allen), it invokes the Santa clause, making him the next jolly fat man dressed in red to deliver the world's gifts.
8. How the Grinch Stole Christmas (2000)
It a wonderful film about a mythical character Grinch, who plans to steal gifts from the people of Whoville. Jim Carrey has done a splendid job as Grinch. It spreads the message of positivity and hope about the Christmas. Entire movie revolves around Christmas and fun and gifts and lot more…..
6. A Christmas Carol (2009)
A very heart touching movie about three ghosts. The role is played by Jim Carrey. The entire movie makes for a very cheer filled mood. Especially the ghost of the Christmas past shows about his loss. What he gave up for his pursuit of meaningless wealth
5. Jack Frost (1998)
A very simple and yet heart touching in presentation. The Storyline is very touching. It about man knowing the importance of relationship after getting killed in an accident…
4. The Family Stone (2005)
The movie is havoc! It is a fun filled riot! It's about a dysfunctional family reuniting for Christmas. Everyone seems to be the best man playing the role. Entire family drama is wrapped around Christmas, when things finally patch up.
3. Home Alone 2: lost in New York (1992)
Yeah. It has familiar wonderful moments. And yes with the same kid it around! Yes, twice!!! The movie is definitely fun filled the kids will love it. They never stop laughing watching this movie
2. Arthur Christmas (2011)
Very nice plot of Santa's Son taking the job of delivering gifts. The Film is about hope and happiness and James McAvoy has done a great job in playing the character of Arthur. It's a must watch movie for everyone.
1. The Polar Express (2004)
It is the adventure of the Christmas. A roller coaster ride in the polar express train in the chilly mountains and valleys. The train is on a journey to the North Pole. It is an adventure-thriller for children.