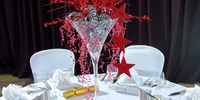 Why? Is the first question whenever someone discovers the conundrum that is Christmas in July. This is in fact the very question I used to ask myself, like seriously, is it not a big enough headache to have Christmas once a year???? Putting up the tree, stringing the lights, hanging the decorations…. Not to mention the headache of gift giving. However, I now understand the logic if not completely the origin.
All our childhood we have been sold on the idea of a snowy, cold Christmas with traditional trees, fireplaces and hot drinks. In Australia this is so at odds with what our Christmas season is – hot, humid and the middle of summer. Who on earth is interested in slaving over a hot oven to cook the traditional Christmas fare? A cold beer and prawn seems to fit the bill better. Christmas in July (or Yulefest or Yuletide) makes perfect sense for those who yearn for the postcard Christmas of cold weather, fireplaces, hot roasts and warm drinks.
Does this replace ACTUAL Christmas in December – NO WAY. However, it is a tradition that is growing in popularity in the warmer countries of the Southern Hemisphere with many clubs now offering a Christmas in July theme, especially in the colder areas of the country.
Where did the term Christmas in July originate? Who can be sure! There was an Opera all the way back in 1892 that made a reference to Christmas in July, in 1933 a girls summer camp in Northern Carolina celebrated Christmas in July, there appears to have been a Christmas in July movie in the 1940's or the group of Irish tourists in the 80's who convinced a Blue Mountains Hotelier to host Christmas during the month of July. The exact origin of celebrating Christmas in July in Australia is hard to determine.

One would think that Christmas in July means 25th July right? Wrong again. The actual date is subject to peoples changing whims as well with some now celebrating Christmas in July in August. Go figure!
Whatever the origin, and the date, Christmas in July it is all about the traditions of Christmas and the warm roasted meal. Christmas in July is here to stay and makes perfect sense to get the traditional Christmas experience in the Australian environment. To get all of your Christmas in July needs such as trees, tableware, crackers and beautiful display pieces come shopping at your convenience in our 24/7 online store.