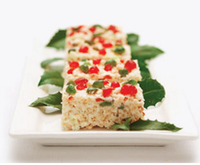 White Christmas
- 3 cups rice bubbles (Rice Krispies)
- 1 cup mixed fruit
- 1 cup dessicated coconut
- 1 cup dry powdered milk
- 3/4 cup of sifted icing sugar
- 225 grams copha
- drop of vanilla essence
1. Put 3 cups of rice bubbles (krispies), 1 cup of mixed fruit essence,
dessicated coconut, dry powdered milk and 3/4 sifted icing sugar in a bowl.
2. Melt 225 grams copha in saucepan. Add copha to dry ingredients in bowl
and mix well.
3. Press mixture firmly into a biscuit tray. Set in a refrigerator. Cut into squares.
Makes a nice little christmas gift if placed in cellophane and decorated with ribbons.
(For our overseas friends, I believe you can buy copha online at aussieproducts.com or
aussiecatalog.com.)
Thankyou to www.thekoala.com for the recipe.
Thankyou to www.kelloggs.com.au/en_AU/white-christmas.html#pr... for the yummy
picture.